First, let's get this out of the way: Wonder Woman's boobs are distracting.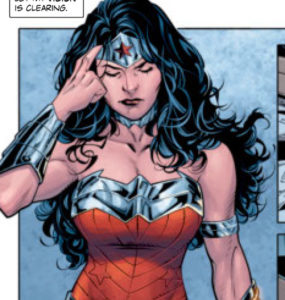 Seriously? I admit, I do have some nice bras that might give me the Wonder Woman look (huge boobs, teeny waist), but she's out there, fighting crime (or evil demon-gods in this one), without adequate mammary support. Seriously, she needs a sports bra. I read through this book and saw her bouncing all over, doing her thing, my chest and upper back just ached. I can't even do a jumping jack sans sports bra without pulling about ten muscles in my chest and having a boob smack me in the face; how can Wonder Woman be all hi-ya kick punch take that! without some serious soreness? After much pondering on the matter, I've decided that her sports bra must be invisible like her airplane because otherwise I think my mind is going to explode.
Am I missing the point of Wonder Woman? I don't remember the chestiness being such a focus in Wonder Woman Cheetah on the Prowl, my only other exposure to the Wonder Woman universe (I bought my copy, used, at a church rummage sale in December 1989. I paid twenty five cents. The cassette was missing, but my nine year old self was in it for the reading, not the being read to by a cassette tape. The Berlin Wall had just fallen. It was an exciting time for all of us.) I think I might have also seen some episodes of Super Friends when I was five; the wikipedia picture has Wonder Woman in it, so I'll take that to mean she was a character in it. Still, compare these boobs:
to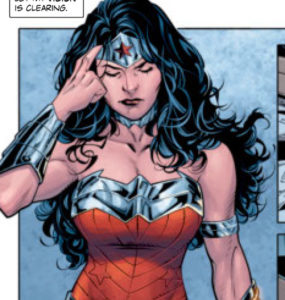 TOO. MUCH. BOOB.
As to the story, Wonder Woman feels like her memory is unraveling and can't get back to Themacypefinae4r3958 (I can't remember how to spell it). There's actually some cleverness with the unraveling memory: this is a reboot, there have been other reboots with differing origin stories, imagine if suddenly the memory of all these stories were thrust into your mind. Confusing, no? So I liked that. But then: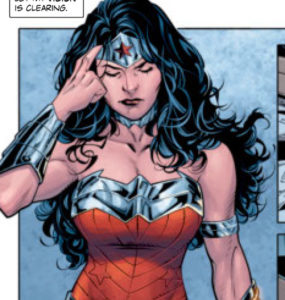 in my face.
I'll stick to looking at my We are all Wonderwomen poster on my wall.
Wonder Woman Volume 1: The Lies (Rebirth) by Greg Rucka and Liam Sharp went on sale February 28, 2017.
I received a copy free from Netgalley in exchange for an honest review.